Donation to The Mirror Foundation
In accordance with the Essential Goals of azbil Group for SDGs initiatives, Azbil (Thailand) Co., Ltd. has an unused items donation project to The Mirror Foundation (The Mirror Foundation is a non-governmental organization who is volunteer to work on human right, community service and social development in Thailand such as Missing people project by operating as center to give advice and assistance to families of the missing people, Lending medical equipment project and Sharing unused items project to people in need or people in remote areas and other Projects.
Our project is donation unused items such as clothes, bags, books and electronic devices from our staffs and some unused electronic devices from our office. The donated items will be forwarded to people in need. By donating instead of discarding, we keep those items in circulation and reduce the amount of waste in landfills. It also helps to conserve resources and minimize the environmental impact of consumer goods.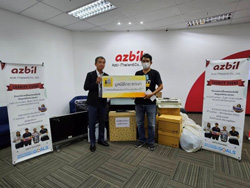 Mr. Takaaki Kawamura (Managing Director) send the unused items to the representative from The Mirror Foundation on Aug 28, 2023.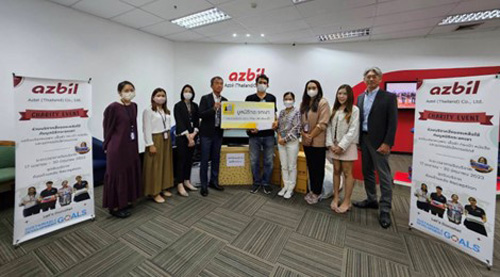 ---
CSR Activity
On May 26, 2023, Azbil (Thailand) Co., Ltd., By Solution and Technology Center (STC), organized two activities to contribute towards the azbil Group in achieving its SDGs (Sustainable Development Goals) for Environment and Energy.
Firstly, we conducted a waste separation activity together. Through this initiative, we were able to collect a total of 65.30 kg of PET bottles and caps, glass bottles, and metal cans, which are waste from our daily human work, whether it from our employees, our customers and our suppliers. This activity contributed to a reduction of 121.86 kg of CO2 emissions, which is equivalent to planting 12 trees.
First Activity : Waste Collect and Seperation to Recycle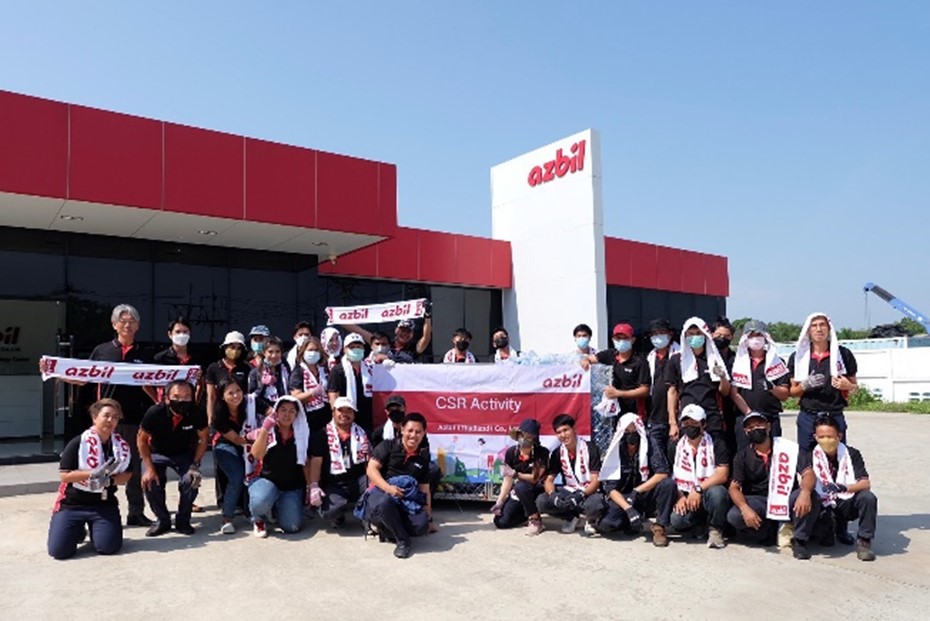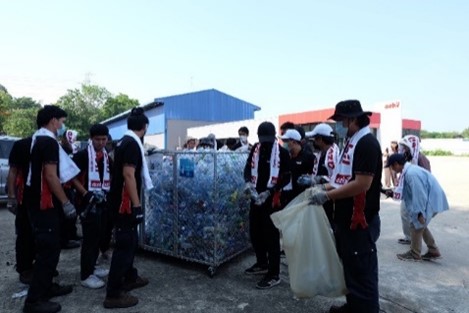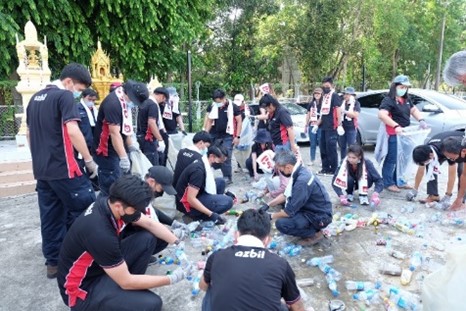 Place : Solution and Technology Center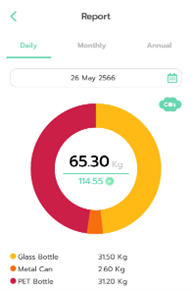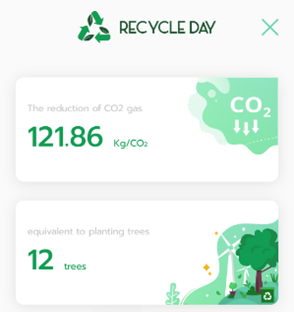 Report from the recycle organizer
2nd Activity: Beach Clean Up
Furthermore, we also conducted a beach cleanup near Maptaphut Industrial Estate. During this activity, around 50 Azbil persons collected a total of 300 kg of wet waste. The collected waste was then sent to the Municipality for proper waste management in the subsequent process.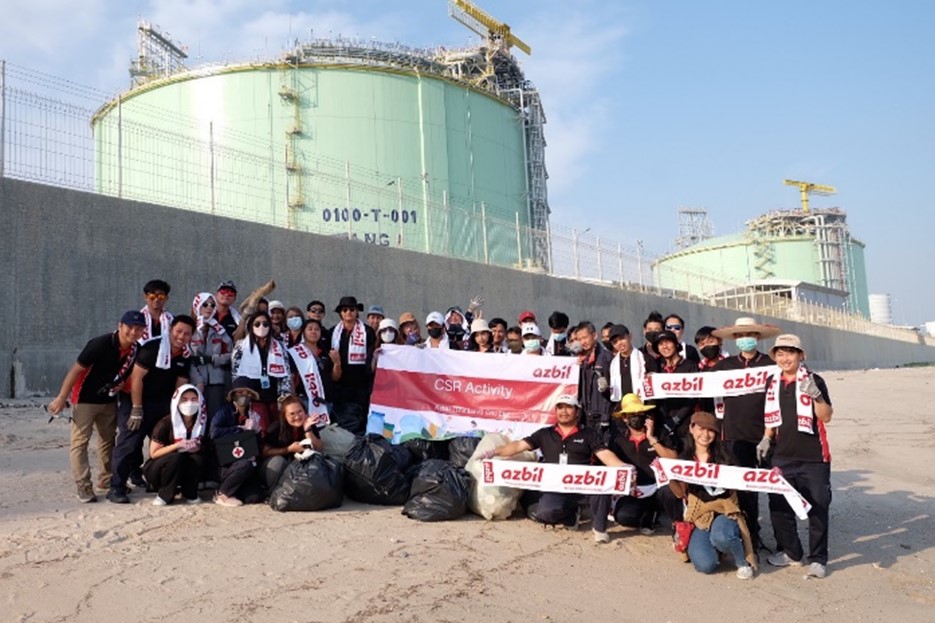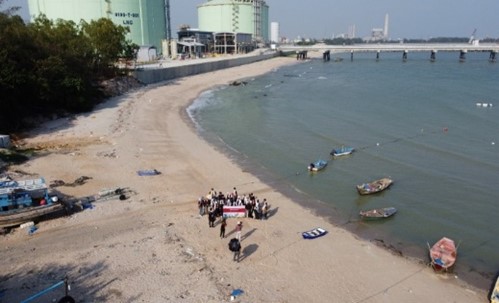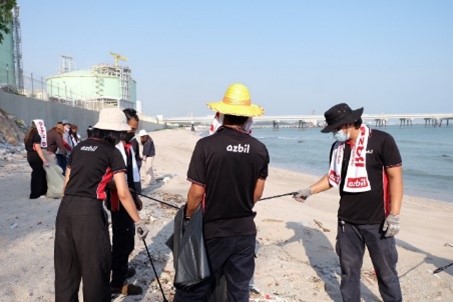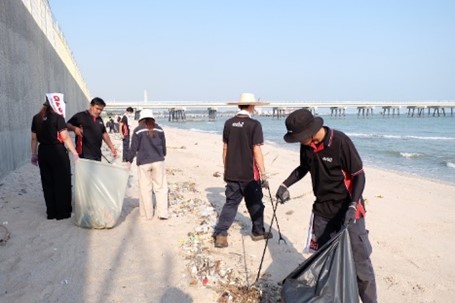 Place : Suchada beach closed to MapTaPhut Industrial Estate.
This area has a traditional local fisherman and is a resting place for people who work in this industry which is not far from the residence.
We realized the importance and responsibility for our environmental. We encouraged our staffs and participants for separate the waste for reducing greenhouse gas emission and decreasing the impacts that cause global warming and climate change and also keep clean for the beach to help waters clean and safe for sea life. The waste has impact for sea life and ecosystem. Some of waste were eaten by sea animals and finally back to affect human health. We will continue our SDGs activity for our good environmental.
---
Mar 20-21, Apr 24-25, and May 22-23, 2023
Leadership Development Training
Azbil (Thailand) Co., Ltd. had a Leadership Development Training for Assistant Manager and Team Leader lectured by CICOM BRAINS UBCL CO., LTD., following azbil Group vision for Global Leader Development and consistent with essential goals for SDGs "An Organization That Never Stops Learning"
We hope all participants will be able to recognize manager's role and expectation from the organization and the other stakeholders, Understand the influence of the manager to the team and learn the method to increase team performance, Learn accounting basics to understand important relationship between financial results and daily business activities that managers should take based on this concept, Learn communication skills, Problem Solving skills and method of objective management to establish good relationship with subordinates and support them to achieve their own goal and recognize the challenges to be a manager and define the improvement plan for the future.
Session 1 Mar 20-21, 2023
[Leadership and Develop People]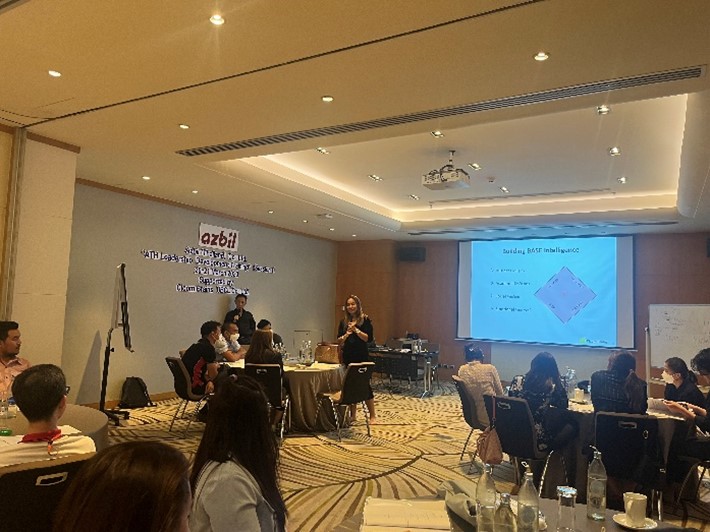 Session 2 Apr 24-25, 2023
[Problem Solving & Basic Accounting]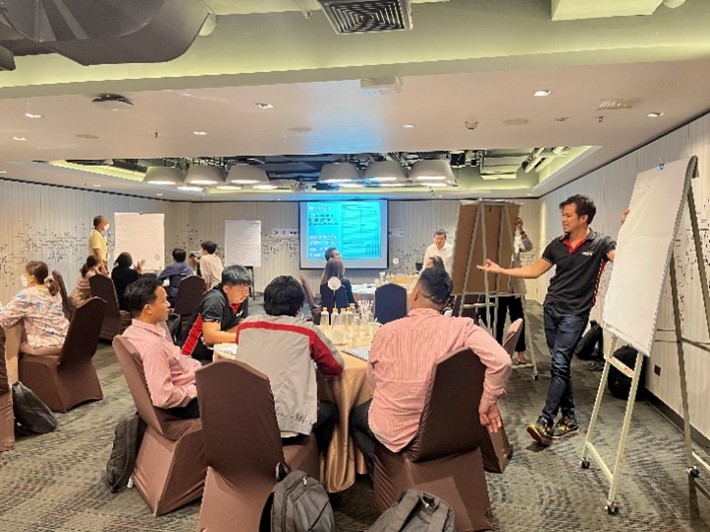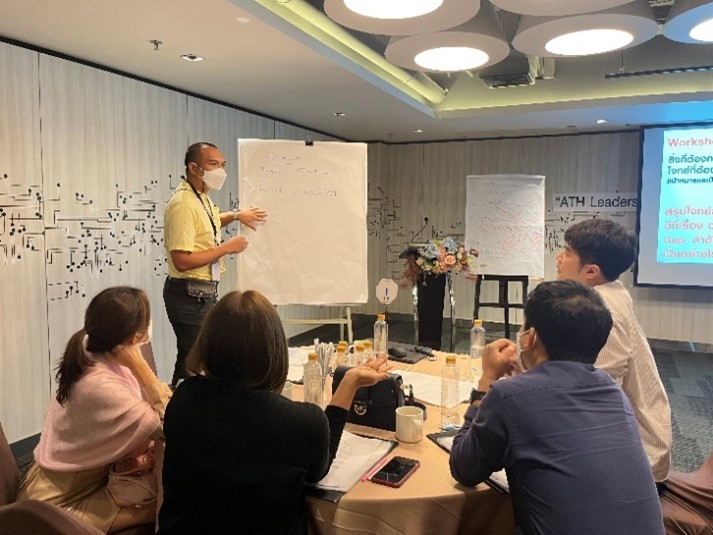 Session 3 May 22-23, 2023
[Public Speaking & Presentation]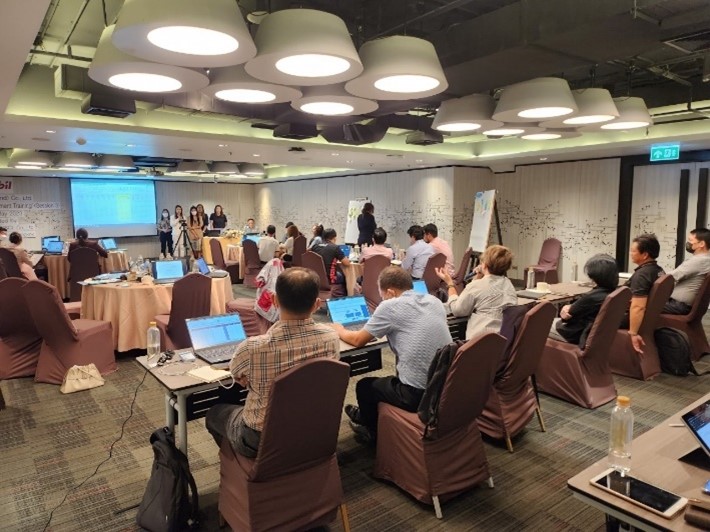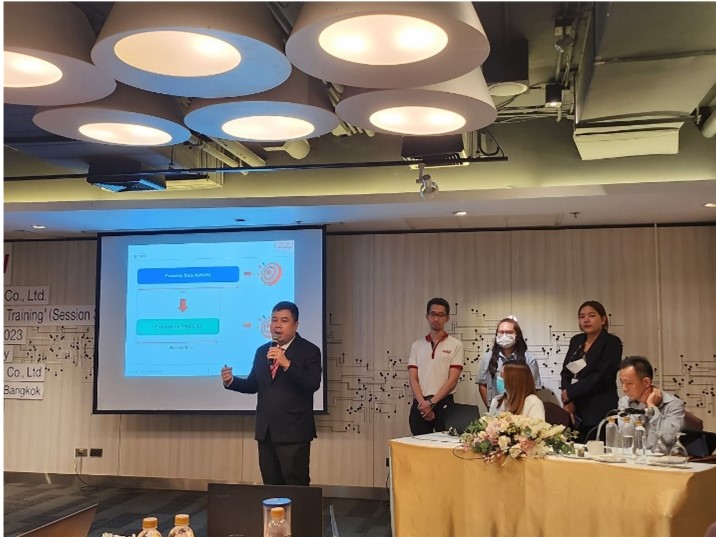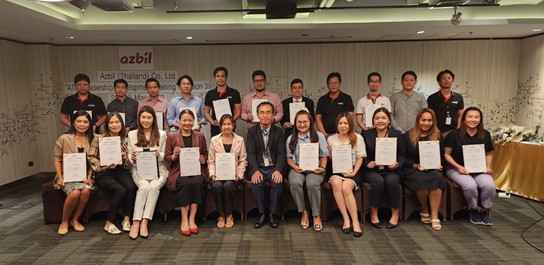 [Certification Ceremony]